Are Branch lines facing closure once again?
Years ago when office workers sometimes stayed in the same job for many years, an esteemed colleague (long since deceased) reckoned that, as new bosses came and went, each with his (in those days) own ways of doing the job, if you waited long enough, the old (and often the best) ways would recirculate as brand new ideas. Sure enough, 36 years after Dr Richard Beeching presented his report, which resulted in the virtual annihilation of all the old Southern Railway main and branch lines west of Exeter, here comes prism rail (Wales and West in this area) with a brand new idea. Rather than us subsidising them to run a not very frequent service, which they wish to make even less frequent, between Exeter and Barnstaple, wouldn't it be a much better idea if they ran a nice new bus instead?
No it wouldn't. We've been through all this before and how many of the bus services which replaced the branch lines in the 1960's are still running today? Almost none. Although it had been supposed that most people using the trains would transfer to the replacement bus services, in the event, it did not turn out that way.
Whether they could really afford it or not, most people decided that if they were to be forced onto the roads, anyway, it would be far more convenient to have their own personal transport. And since the replacement buses were only guaranteed for a short period after closure, even those few people who stayed with public transport were forced to acquire their own vehicles within a couple of years.
What has brought the prospect of branch line closures to the fore again? It seems that a Government representative has indicated this is a possible solution to the situation that some of the train operating companies are finding themselves in, with a regime of annually reducing public subsidies – to which they committed themselves – in order to gain their franchises – now beginning to bite into their profits.
Sadly, it was clear during the franchise bidding, that some companies were bidding for such low subsidies towards the end of their franchise period, that they might find it difficult to keep going, unless the numbers of travellers showed a substantial increase.
Could it be that at the same time Railtrack is putting hundreds of thousands of pounds into refurbishing our local stations, other forces are at work to close some of them? Even in the 1950's, relaying the track or painting the stations was often a prelude to closure. Could it all be happening again?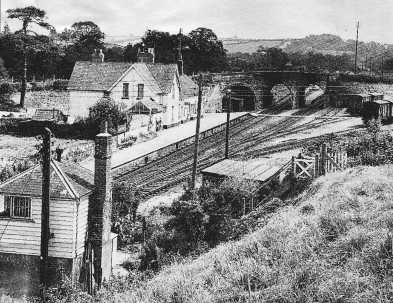 Our picture is of the quintessential English country station on a lazy summer afternoon. Roses round the signal box, and the clear tones of the block bells ring out through the open window to tell us that a train is on its way.
This is Lapford station on the threatened Barnstaple line on August 5th 1963. It was one of several crossing stations on the 18 mile central section of the line, which has always been single track. In the foreground is the typical ex-LWSR signal box, and beyond the combined station buildings and stationmasters house alongside the up platform. The separate down platform was accessed by steps from the main road bridge and can be glimpsed through the right hand arch of this structure.
By Peter Gray