Royal Mail fails to find alternative use for its underground railway.

The following article is taken from the 25th May issue of "Professional Engineering", the fortnightly journal of the Institution of Mechanical Engineers. The photographs are mine, taken on the REC visit to Mail Rail, at Mount Pleasant on, 29th October 1993.. As the location is underground the photographs were taken with flash, and consequently are rather dark. I have tried to digitally enhanced them, but they are still rather poor .
ROYAL Mail has failed in its search to find an alternative use for Mail Rail, the 78-year-old underground railway that used to carry post under central London, creating fears that the system might be closed forever.
Mail Rail was mothballed two-and-a-half years ago, with Royal Mail claiming it was uneconomic to run. The 10km mechanised system —which comprised electrified track from Whitechapel in east London to Paddington in the west of the capital —carried 12 million postal items a year at its peak.
But Royal Mail said that operating an underground railway was costing it four times as much as it would to transport letters by road.
Royal Mail has been trying to find an alternative use for the system. It even placed an advert in the Official Journal of the European Union asking businesses or organisations to come forward with ideas. But it said that its enquiries had failed to unearth a "commercially viable alternative use".
As a result, it is carrying out an environmental review of Mail Rail that could result in the system being broken up so that it could never be used again. The review includes a full inventory check, so that historically interesting parts of the tunnels, tracks and trains could be given to transport museums for display.
Royal Mail said: "No final decision has been made on Mail Rail but we cannot find a commercially viable use."
Opened in May 3 1927, Mail Rail served nine stations. The link was upgraded extensively in the early 1980s.
Royal Mail said that in recent years, as new mail centres opened across London, the amount of mail carried underground had fallen to just 3.4 million items annually.
Mai Rail was finally closed on 31 May 2003.
Geoff Bryan
This website gives a lot more information www.mailrail.co.uk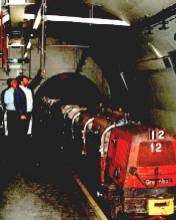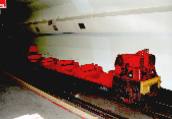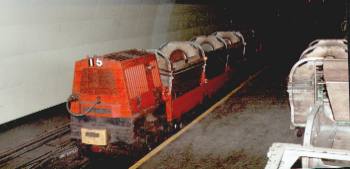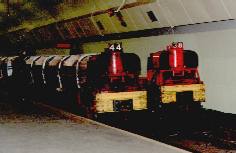 Photos taken at Mount Pleasant
Mail Rail Station
29/10/1993
Train 38 in the westbound sidings
Train 16 departing from the eastbound platform
Richard Thomas about to despatch a westbound train
UPDATE 2013
The Heritage Lottery Fund will be helping the Post Office to create a new Postal Museum at Mount Pleasant opening in 2014.
Rumour has it that a 1 km section will be opened for passenger rides with converted stock carrying 30 passengers; Let's hope the rumours are true!!