The Heart of Wales line - Another great railway journey
I was pleasantly surprised to find the Heart of Wales line in my new book, much closer to home than the Yellow train of the Pyrenees, and even more so for me as it ran close to my home for 15 years.
The line, more commonly known as the Central Wales Line, runs from Swansea to Shrewsbury through some of the most unspoilt scenery in Wales and was originally built by the LNWR as its route into GWR territory. The Southern terminus was Swansea Victoria station and the line ran along the coast, through Swansea Bay, as far as Mumbles Road station, where it turned north and climbed at 1/70 through Clyne Woods, which were behind my back garden from 1947/51, and on to Pontardulais. This section was closed in 1964 and trains now have to reverse at Llanelli to get to Swansea (High Street).
At Pontardulais it joined the GWR (ex Llanelly Railway) line to Llandeilo, passing Ammanford on its way, running past the end of my road from 1951 until I left home in 1964. Just before Llandeilo it was joined by the line from Carmarthen, which closed in 1963. The line on to Llandovery was an LNWR/GWR joint railway, the Vale of Towy Railway. Beyond Llandovery the LNWR line climbs at 1/60 across the Cynghordy Viaduct to the Sugar Loaf tunnel and summit and then through Lanwrtyd Wells, Llangammarch Wells and Llandrindod Wells, the three spa towns used to attract LNWR customers. 20 miles further on the line crosses the attractive Knuucklas Viaduct before crossing the border into England at Knighton. At Craven Arms the line joins the double track line from Cardiff and Hereford some 20 miles before terminating at Shrewsbury. Although some sections of the line were always single track, all the double track sections have now been singled, leaving a few passing loops at appropriate stations.
Prior to the demise of steam traction and the closing of the Pontardulais to Swansea Victoria section the line was run by a mixture of GWR, LMS and BR 'Standard' stock. Pannier Tanks, Prairies, Black 5's, 8F's, Webb Tanks, Fowler Tanks, Standard 5's and Standard 4MT's were all common sights. In this period there were many 'local' services running from Swansea and Llanelli to Pontardulais, Llandeilo and Llandovery and 4 or 5 through services from Swansea to Shrewsbury.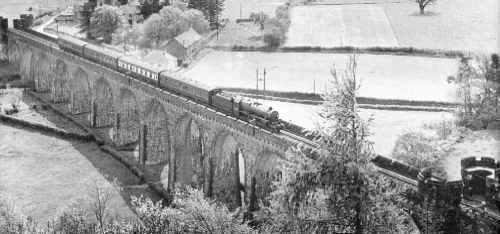 Black 5 crossing Knucklas Viaduct 16th May 1964 B J Ashworth
The 6.30pm 'mail' from Swansea went through to York, with the return working leaving York at 9.50pm. (A convenient service for me and my family to visit friends and relations back 'home' in Yorkshire.) The service of 4 trains a day each way is now operated by 2 car or single car DMU's.
Distance 122 miles, Journey time 3hr 50 min, 4 trains a day (1 on Sundays)
See also "The Central Wales Line" by Tom Clift, 1982, and "Portrait of the Central Wales Line" by Martin Smith, 1995, from where the picture comes, both by Ian Allen.
GB